Native Chicken Collagen Type II
MAINTAINING HEALTHY JOINTS THROUGH LIFE IS VITAL
Around 650 million individuals globally are diagnosed with joint health issues, cause of disability and impaired quality of life (1,2). As we age, our natural production of collagen declines, which impacts our ability to lubricate our joints and absorb physical impact. Type II collagen is the most abundant collagen found in cartilage and joints comprising up to 90 % of the total collagen content, thereby making it a potent nutrient for supporting joint health and maintaining an active lifestyle (2,3). Low oral intake of Native Chicken Collagen Type II improves joint health and mobility through its unique interaction with our immune system (6,7,8,10).
BIOFAC'S NATIVE CHICKEN COLLAGEN TYPE II
By taking advantages of our 75 years of expertise in the pharmaceutical and nutraceutical industries, BIOFAC produces the highest quality Native Chicken Collagen Type II on the market, as it comprises:
* The value is a reference value for informational purposes. It is up to manufacturer of finished dosage form to identify a correct daily dosage for a particular formulation.

BIOFAC's NATIVE CHICKEN COLLAGEN TYPE II
BIOFAC offers the following Chicken Collagen Type II products:
Undenatured Chicken Collagen Type II
Native Chicken Collagen Type II: Extracted from Chicken sternum through our own, developed in-house production process resulting in a premium Chicken Collagen Type II.
Hydrolyzed Chicken Collagen Type II
Chicken Collagen Type II, 10 % CS: Extracted from Chicken sternum, comprising high amounts of Chondroitin Sulphate (CS), Hyaluronic Acid, and Hydroxyproline. Further customized variants, e.g., with 20 % CS, are possible
Chicken Collagen Type II, 90 %: Extracted from Chicken sternum, comprising 90 % proteins (Type II Collagens). Chondroitin and Hyaluronic amounts are present, but not measured through analysis.
NATIVE CHICKEN COLLAGEN TYPE II ACTIVATES OUR NATURAL IMMUNE SYSTEM
Our Native Chicken Collagen Type II consists of a triple-helical structure of three interconnected collagen fibers, cf. figure 1. Due to the uniquely structured Native Chicken Collagen Type II, it can easily travel to the small intestines, where it activates the body's natural immune system, which decreases inflammation, promotes osteoblast differentiation and formation of cartilage, thereby improving the function and comfort of the joints, see Fig. (6, 7, 9). A low dosage intake of Native Chicken Collagen Type II (40 mg) has been linked to decreased joint swelling and joint paint, in particular in patients with Osteoarthritis and Rheumatoid arthritis due to the immune system activation (5, 6, 8, 10).
Fig. 1.
Studies suggest that the native three-dimensional structure of Native Chicken Collagen Type II play an important role in initiating the oral tolerance mechanism that helps the body to distinguish between innocuous materials in the gut from potentially harmful foreign invaders antigen (8, 9)Oral tolerance is initiated, when an antigen (Native Chicken Collagen Type II) reaches the gut and activates an immune response in the gut-associated lymphatic tissue (GALT) (6, 8, 9).
The presence of antigenic epitopes on the Native Chicken Collagen Type II is recognized by T-cells, which elicits a release of TGF-β, IL-10, and IL-4 in the joint, resulting in a reduction in joint inflammation and associated discomfort (9).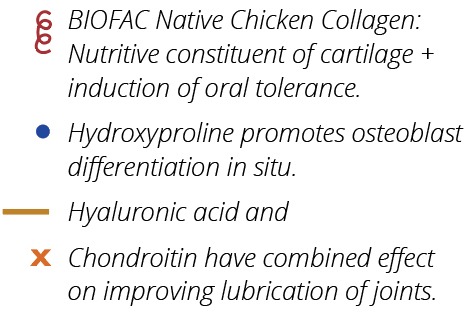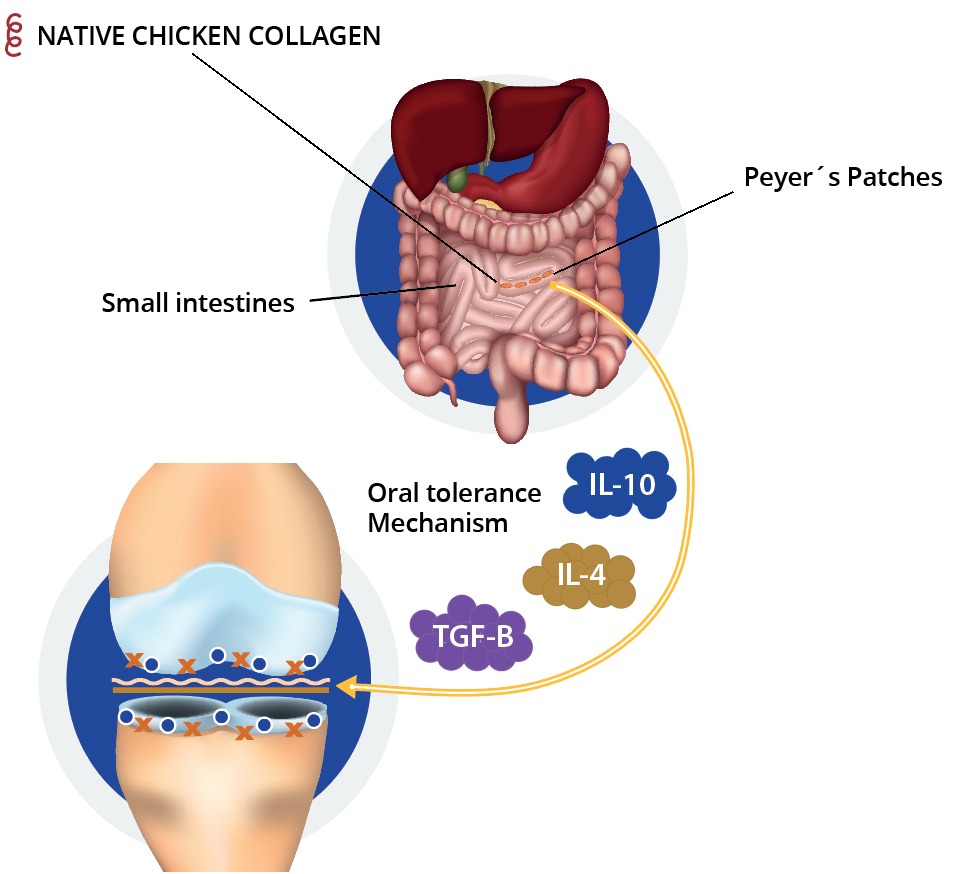 BIOFAC's Native Chicken Collagen Type II should be stored in original and tightly closed containers at room temperature (not exceeding 25 °C). Retest date is 2 years from date of production, if stored as advised. All products are primarily packed in food approved-, light- and airtight aluminum bags followed by fiber drums.
GMP certified under the strictest quality and environmental regulations. 

Food Approval by Ministry of Environment and Food of Denmark, Danish Veterinary and Food Administration.

All biological raw materials utilized at the factory have been veterinary controlled and fulfil EU requirements. Danish
Environmental Protection Agency (Danish EPA) has made a categorization of BIOFAC as to an instruction No. 6 of 2004
on Differential Environmental Review and assessed that BIOFAC is classified as Category 1 (the best category) because
of the high level of systematism and high level of regulatory compliance.

Danish Working Environment Authority has assigned BIOFAC with a green Smiley, indicating that BIOFAC
has no issues with the Working Environment Authority, providing a high level of health and safety.

Sources: 1) Global, regional prevalence, incidence and risk factors of knee osteoarthritis in population-based studies. Cui et al. (2020). Clinical Medicine 29-30. 2) Collagen hydrolysate for the treatment of osteoarthritis and other joint disorders: a review of literature. Bello et al. (2006). Current Medical Research and Opinion Vol.22; 11; 2221-32. 3) Collagen type II: From biosynthesis to advanced biomaterials for cartilage engineering. Biomaterials and Biosystems. Volume 4,  2021, 4) A pilot trial of oral type II collagen in the treatment of juvenile rheumatoid arthritis. Barnett et al. (1996). Arthritis and rheumatism. 5) Treatment of rheumatoid arthritis with oral type II collagen. Results of a multicenter, double-blind, placebo-controlled trial. Barnett et al. (1998), Arthritis and rheumatism. 6) Effects of Native Type II Collagen Treatment on Knee Osteoarthritis: A Randomized Controlled Trial. Bakilan et al. (2016). The Eurasian Journal of Medicine. 7) A multicenter, double blind, randomized, controlled phase III clinical trial of chicken type II collagen in rheumatoid arthritis. Wei Wei et al. (2009). Arthritis Research & Therapy; Vol.11, 180. 8) Oral tolerance. Weiner & Wu (2011). Immunologic research. 9) Functional Characterization of Undenatured Type II Collagen Supplements: Are They Interchangeable? Harris et al. (2021). Journal of Dietary Supplements. 10) Effect of collagen supplementation on osteoarthritis symptoms: a meta-analysis of randomized placebo-controlled trials. García-Coronado et al. (2019). Int Orthop,, Vol. 43 (3), p. 531–38.