THE GAP IN THE CURRENT SYNTHETIC THYROID TREATMENT APPROACH
Thyroid disease, in particular, Hypothyroidism, is one of the most common chronic diseases worldwide, affecting approx. 5 % of the global population, with main symptoms such as metabolic dysfunction, fatigue, stagnated growth, cardiovascular diseases, and infertility (1; 2; 3; 5). Despite the fact that synthetic thyroid hormones (T3 and T4) have been used for a century to treat hypothyroidism, it is estimated that up to 15 % of treated patients remain symptomatic while receiving synthetic mono-therapy with T4 hormones (2; 3; 5).
Target application is pharmaceuticals and compounded drugs.
By taking advantages of our 75 years of expertise in the pharmaceutical and nutraceutical industries, BIOFAC has listened to clinicians' and patients' requests for a natural combination T3/T4 thyroid extract product,
as it comprises:
ADVANTAGES OF NATURAL THYROID EXTRACT VS. SYNTHETIC TREATMENT
Various forms of thyroid extracts were originally developed in the 1880s and were used as primary treatment. In the 1970s, there was a switch to T4-mono therapy, which to this day is the standard of care, considered safe and effective (7). Studies show that patients receiving synthetic mono-T4 therapy prefer and respond positively to combination therapy with natural thyroid extract (T3 + T4) due to fewer side effects (6; 7). Combination therapy is also recommended by European, UK, and ATA guidelines (7; 8).
THE THYROID AND ITS STIMULATING HORMONES
The thyroid gland is located on the neck and responsible for the production of T3 and T4, which are essential for normal development, growth, neural differentiation, and metabolic regulation, cf fig. A (1; 2). T4 is the primary isoform produced in the gland, whereas the active form, T3, is produced to a lesser extent. In target tissues, T4 is converted to T3 by deiodinase enzymes, a process necessary due to T3's higher affinity for thyroid hormones receptors (4, 5).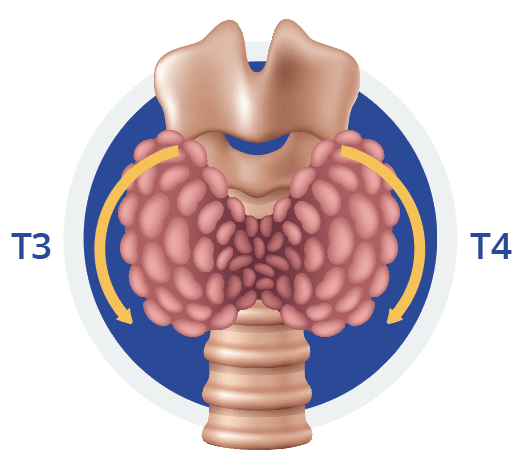 Fig. A.
Depiction of the location of the thyroid and its stimulating hormones, T3 and T4. The thyroid mainly control the metabolism, growth, heart rate, and skin and bone maintenance among others.
BIOFAC Thyroid USP is a hygroscopic product that easily absorbs humidity from the air. It should be stored in original and tightly closed containers at room temperature (not exceeding 25o C). Shelf life is 2 years from the date of production if stored as advised.
GMP certified under the strictest quality and environmental regulations.
All biological raw materials utilized at the factory have been veterinary controlled and fulfil EU requirements.
Danish Environmental Protection Agency (Danish EPA) has made a categorization of BIOFAC as to an instruction No. 6 of 2004 on Differential Environmental Review
and assessed that BIOFAC is classified as Category 1 (the best category) because of the high level of systematism and high level of regulatory compliance.
Danish Working Environment Authority has assigned BIOFAC with a green Smiley, indicating that BIOFAC has no issues with the Working Environment Authority,
providing a high level of health and safety.
'Approved by the FDA U.S Food & Drug Administration'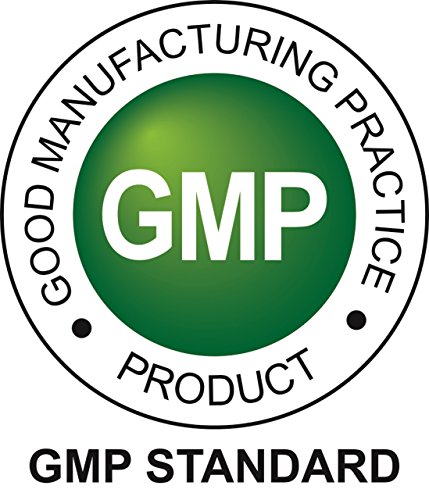 Sources: 1) Mechanisms of thyroid hormone action, Brent, G.A. (2012). The Journal of clinical investigation. 2) The history and Future of Treatment of Hypothyroidism. McAninch & Bianco (2016), Ann Intern Med. 5, 164(1), 50-56. 3) Hypothyroidism in Context: Where we've been and where we're going. Chiovato et al. (2019), Adv. Ther. 36; 47-48. 4) Receptors of thyroid hormones. Aranda et al. (2013). Pediatric endocrinology reviews: PER. 5) Physiology, Thyroid Stimulating Hormone. Pirahanchi et al. (2022) Statpearls Publishing LLC. 6) Desiccated thyroid extract compared with levothyroxine in the treatment of hypothyroidism. A randomized, double blind, crossover study. Hoang et al. (2013), Journal of Clinical Endocrinology and Metabolism. 7) Comparative Effectiveness of Levothyroxine, Desiccated Thyroid Extract, and Levothyroxine+Liothyronine in Hypothyroidism. Shakir et al. (2021), Journal of clinical Endocrinology and Metabolism, 106(11), 4400-13. 8) A systematic review of clinical practice guidelines' recommendations on levothyroxine therapy alone versus combination therapy (LT4 and LT3) for hypothyroidism, Kraut & Frahani (2015), Clinical investigation Med, 38; 305-13.